The Fortress Goes On Tour Nov/2006!






By Maurice Ali, Journalist




Ok, here is a travel log of my journeys as paper boy for our little paper. I archive this stuff as I like to see our rag pitted against of the papers in the big bad world out there.....






Ryerson University



First was Ryerson University one of my alma maters, this actually happened last week but it was one of the first so there you go.






University Of Toronto



Next was Robarts at the U of T, this is one big library and I spent a year there coming up with some philosophy back in the early eighties (yup guys and gals - I am old....).



York University




I concentrate on York for many personal reasons. Anyway I make sure the old Fortress is here in many places.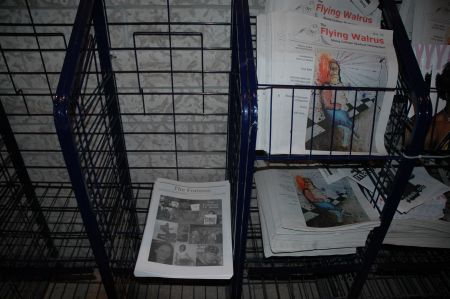 Here we are pitted against the "Flying Walrus "
My college: Bethune!



The science library




Ok, here is the best part. Delivering the paper to my old college. I only had a little left from the two bags I came with, so I put some at the door of the residence at Bethune College. I love this place as that is where a bunch of girls stopped and picked up some papers as they went in with the last issue - a real experience an old veteran likes to see and feel.....




The bottom shows the residence entrance; and that is it for the travel log today.....




To some this may seem a little pathetic with our paper and me gushing over it beside truly massive - ad filled - rags left in quantity by delivery people who only want to get rid of the stuff. However, I actually relax and enjoy lugging our paper and seeing people give it the eye as they pass by. Remember, that the newspaper is really the only media device expressly mentioned in our constitution and protected. Say what you like, but at the end of the day FOF only controls this paper, it is our jewel in the "cracker box crown." The paper is my only defense against the many shenanigans that have been thrown our way. I still have my "sledgehammer" paper and law firm if push ever came to shove. We have a bank of material and I can punch out an issue in a matter of days. I have treated The Fortress badly as we entered the world of television and music, but we are back.....