Joined: 14 Nov 2003
Posts: 5521
Location: Toronto, Ontario, Canada
"Loco Mezcolanza" At The Zodiac!
By Maurice Ali



Dave Getchell!




For those who have followed Dave Getchell and FOF may be interested to know he is with a new band called "Loco Mezcolanza which roughly means "crazy hodge-podge." The band had an informal rehearsal the Sunday I found out about the band (June 12, 2011) so I decide to pass by and check them out at a Toronto bar call the "Zodiac Lounge."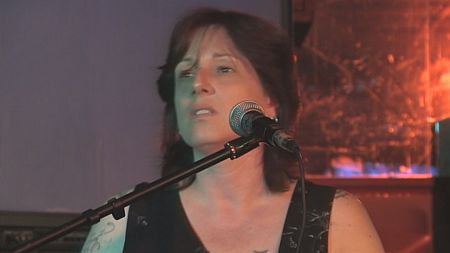 Eva Ribes!




The biggest surprise to me was the female lead singer called Eva Ribes. This lady has some lungs on her as the band belted out oldies rock songs as well some familiar Dave Getchell compositions.







Phil Cuttiford!




The bands drummer was Phil Cuttiford, Fernando Jauregui Lopez at the guitar and Andrew Bennett who plays bass.





Nevertheless less the band played to the packed bar gathering to see to see an NBA play-off game later that evening, and getting a musical primer courtesy of "Loco Mezcolanza!" "Loco Mezcolanza" will be appearing at our own FOFSTOCK this August 1, 2011 at Canada's most popular intersection: Yonge-Dundas Square!


http://davegetchell.ca

http://fofstock.com