Cherry Cola's loses its Cherry with Twenty6Hundred!
By Shane Murphy, A&R: FOF Records Inc. / FOF Inc.
Michael Atkinson of Twenty6Hundred!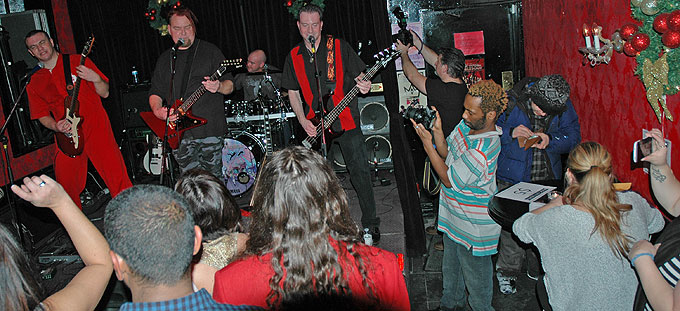 At the stage!



When Twenty6Hundred plays a gig the place is never the same again and that is what happened at Cherry Cola's on a snowy December 11 2014 in downtown Toronto! You would think having the biggest dump of snow for the season would keep fans away but such was not the case for Twenty6Hundred. At minus digits and packed with snow outside, inside the place was packed with fans and all those bodies raised the temperature in the lounge to over 95 degrees on my cellphone thermometer!





The crowd from the back

!






Mihai at the guitar!



The band played songs from their latest album

Electric For All

and unlike the two previous engagements Michael interacted with the crowd more, even singing a happy birthday ditty to a fan in the front row as only Michael can.





Jim on Bass!



That place was hot and hopping outside for a smoke was a shock as the reality of Toronto in winter hits you in the face. But that is the Twenty6Hundred experience. A break from the miserable reality and just having fun!



Randy on drums!



Michael screaming ou the lyrics

!



http://twenty6hundred.com
http://fofrecords.com




FOF RECORDS: CUTTING EDGE MUSIC!