Librarians On Strike!
By Maurice Ali



One of the 98 Toronto Libraries closed due to the strike!



On Monday (March 19, 2012) 98 libraries in Toronto were closed due to a strike by the city's library workers. The main issues of the strike were layoffs and job security. It is not my intention to focus on the issues that lead to this strike, but to focus on the broader issues of freedom of expression. Originally I just thought librarians on strike was just an oddball situation and I wanted to have a look. I really did not think there was a story here as employer/employee issues really don't open up further debate on other issues, but after on altercation with a striker I think there is food for thought.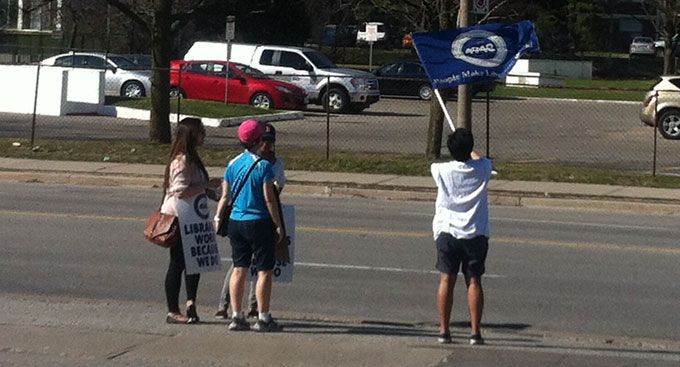 Some of the younger picketers waving their union flag at passing motorists!



As you can see in the photos there were about twenty picketers at this library (March 20, 2012) located at Fairview Mall in a northern suburb of Toronto. As I took a few pictures this one middle-aged women approached me and asked me not to take any pictures. This is something I really did not hear before except when the group had a bad experience with one of the large local papers. Anyway, what followed was a back and forth argument of why you would not want someone to take pictures of you when you are trying to publicize your situation by wearing placards and waving flags at passers by and handing out leaflets. Finally I owned up to her and told her about our org and paper and she relented and said we were ok to report on the strike and even gave me some of their material.





The full-time staff and the lady that had "issues" with me is in the lower right!



The real reason for the "annoyance" about the picture taking was probably far less academic though. I think - just my feeling - this lady, and probably many others of this group, were simply embarrassed at having to walk the picket line at a library. I always thought of librarians as rather quietly dignified and non-confrontational sorts. So to close down the library and make a spectacle of the place would probably rub some of the established full-timers the wrong way. By contrast, the flag wavers were the younger part-time staff. But, once again, this just goes to show you that when push gets to shove, anyone and I mean anyone can find themselves holding placards exercising their right to freedom of assembly and freedom of expression. I am sure many of these librarians watched others in demonstrations and protests and said that would never happen to them, and now look. Never say never. Freedom of expression is everyone's business. The Internet has done much to devalue the role of the library in the minds of most. City budgets are now starting to reflect this and the pressures of cutbacks over the years finally spurred the librarians to take action in a very public way.

So now we have Librarians on strike and in the news with photos of librarians in the media along with names and comments. It can happen to anyone. Freedom of expression is everyone's business.