Corey Johnson Signs Record Deal With FOF!
By Maurice Ali, President and CEO: Fortress Of Freedom Inc./FOF RECORDS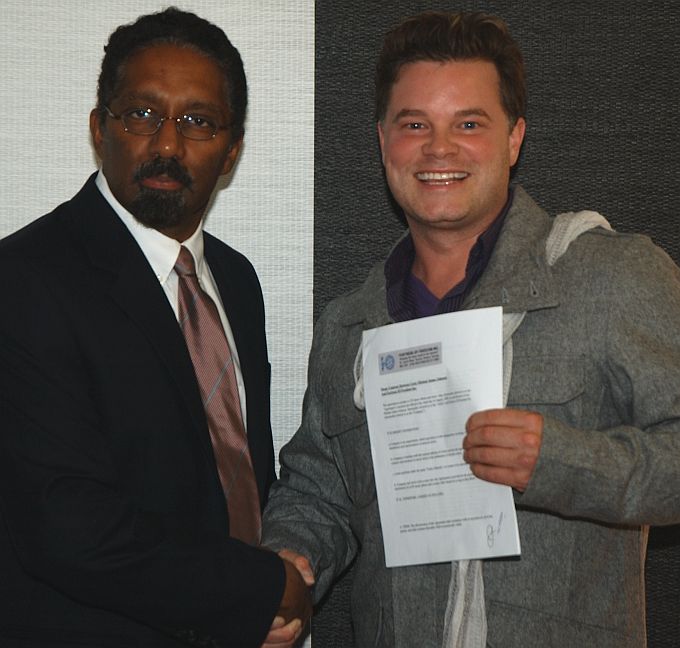 Corey Johnson (right) holding his recording contract with Maurice Ali!





The Fortress Of Freedom Corporation with FOF RECORDS are excited to announce that Corey Johnson has signed a recording contract with our organization. The contract takes effect immediately.

Mr. Johnson can act as well write and sing and has a wide range of formal and practical experience in music, stage and drama:


*He studied Musical Theater at Sheridan College and was 1 of 4 in Ontario to receive the Ann Watts Memorial Scholarship for Theater Performance. He also received vocal training while attending college.

*Performed in Musical Theater productions. He played the lead in the stage performance of "Grease."

*Won Outstanding Acting Award for performance in theater.

*Has training in television and TV commercials.

*He has also done solo performances where he would put on a 1.5 hour show.



This will be Corey's second CD, the first of which was Gospel Music. He brings his extraordinary talents to our record label and to our television productions. He will be an asset to the organization in many ways.


So from all of us at the Fortress Group Of Companies, we all wish Corey best wishes on his album and continued success in his future endeavors with our organization!







Corey Johnson!




Visit Corey's website at: http://coreyjohnson.net





FOF RECORDS: CUTTING EDGE MUSIC!