Dave Getchell Becomes A Director At IAIJ!
By Ainsley Wronski, Editor: The Fortress Newspaper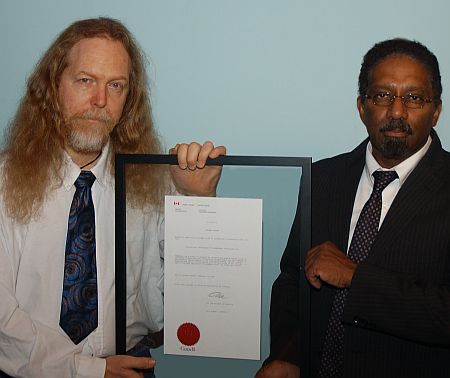 Our fifth director Dave Getchell (left) holds IAIJ's Letters Patent with the association's
President and Chairman Of The Board of Directors, Maurice Ali!



The International Association Of Independent Journalists Inc. is proud to announce that Dave Getchell has become a director at the not-for-profit corporation. Mr. Getchell becomes the fifth director elected to the association's board of directors and the first musical artist!

The veteran singer/ songwriter and visionary; Dave Getchell has been composing and performing for over thirty years since his early days as a student at York University to the present. Mr. Getchell gives Canadians his unique insight into the human condition and his statement on Canadian events. Dave has performed on television in the early days of Roger's Cable TV here in Toronto and lately on our own Fortress TV show back in 2005. A published author and journalist, Dave is also a devoted husband and father of three.

From all of us at IAIJ, Fortress Of Freedom and MORE VISION , we all wish Dave Getchell the best of wishes in his new position as a director at IAIJ!




IAIJ: JOURNALISTS IN ACTION!