Joined: 14 Nov 2003
Posts: 5488
Location: Toronto, Ontario, Canada
G20: Day Of Action For Civil Liberties!
By Maurice Ali




July 10, 2010 - Toronto, Canada. Over two weeks after the end of the G20 Summit in Canada and here we have another protest, this time to ask for an independent inquiry into police action during the G20 Summit held in downtown Toronto. The issues were many from police brutality, to rights violations ranging from searches to imprisonment and so on, were discussed at the protest and march which started at Queen's Park in Toronto and ending at the Metro Toronto Convention Center where the G20 Summit was held.






What follows are some random photos of the protest which included the usual labor unions and civil rights groups such as: Amnesty International, the Ontario Federation of Labor, Ontario branch of the Canadian Union of Public Employees and the Canadian Civil Liberties Association. As a personal note I noticed the York Graduate Student Association in the crowd. I should also note that there was a crowd of more than 2,000 people. Some panoramic shots should tell this tale as this was no small crowd by any stretch of the imagination. Also in the crowd was a large assortment of citizens and not the usual crowd at these events. The last three post-G20 protests showed many ordinary people including little old ladies who would probably be watching "Coronation Street" but actually got concerned enough to come out, usually for the first time.




Almost inconspicious in the park were the police, a few mounted and one bicycle cop hidden in the shadow of a tree where you really could not tell who they were. Not that unexpected as this was a protest against the police and police tactics. However, this was no doubt the smallest contingent of police at any organized protest and march I have seen to date.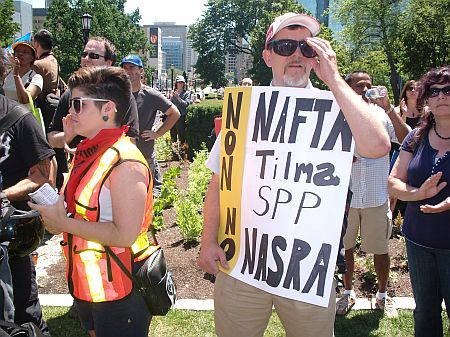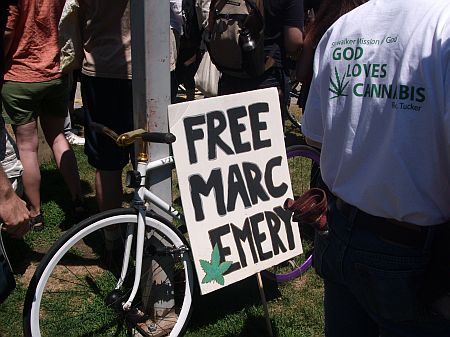 The fact these protests have a very large proportion of first time average citizens is probably of concern for the police and governments. This issue of rights violations is not going away and now I believe there are several inquiries all sorts concentrating on various aspects of the G20 Summit. Remember the saying that if you don't fight for your rights then you will lose them, it seems that many don't want to lose their rights and this protest along with similar ones at Montreal, Halifax and Windsor prove that statement.